Get bright, healthy, glowing and rejuvenated looking skin with our powerhouse trio of serums, Vitamin C, Hyaluronic Acid and Copper Peptide.

Femvy Vitamin C
Also known as ascorbic acid (a water-soluble Vitamin C formulation), Vitamin C helps to repair existing skin damage within the epidermis.

Safe for most skin types, Vitamin C activates cell growth/regeneration.
Improves the visible appearance of hyperpigmentation, boosts the development of collagen, brightens the skin and gives the skin a fresh-looking 'glow'.
Femvy Hyaluronic Acid
The ultimate in hydration!

Hyaluronic acid p

lumps and hydrates the skin, reducing the appearance of fine lines and dryness. HA holds up to 1000x its weight in water making it an excellent and extremely popular humectant.

Locks in moisture by strengthening and stimulating the skin's natural barrier, so your skin stays hydrated for longer.
Plumps and smooths out the skin, giving a firmer appearance that minimises the visible appearance of enlarged pores, fine lines, wrinkles and dullness.
By stimulating cell regeneration, HA works beautifully in conjunction with Vitamin C to reduce the visible appearance of hyperpigmentation and age spots. 
Femvy Peptide Complex
An anti-aging powerhouse, the Femvy Peptide Complex is a highly effective combination of botanical extracts, peptides and anti-aging complexes to give your skin a healthy radiance.
The Femvy Peptide Complex works to reduce the visible appearance of wrinkles and fine lines whilst stimulating the production of collagen and elastin.
This hydrating formula helps to fight hyperpigmentation, dullness and scarring whilst providing a beautiful glow to the complexion.
How to Use: 
For best results before applying any serums, we recommend that you cleanse your face thoroughly. Double cleansing is strongly recommended if you have been wearing makeup. Followed by applying a toner or cleansing lotion. Once your skin is clean and prepared, then apply 2-3 drops of the appropriate serum(s).
To avoid cross-contamination ensure that the serum dropper does not touch your face and hands.
Femvy Hyaluronic Acid Serum
Hyaluronic acid serum can be used for both day and night. The hyaluronic acid serum can be used by itself to improve the skin's hydration and plumpness. It can be used in conjunction with vitamin c or retinol serum. 
If using with vitamin C, first apply the vitamin c serum and wait until it's absorbed by the skin and then apply your hyaluronic acid.
Before microneedling, apply the hyaluronic acid serum once per day for two weeks in the lead up to microneedling. This will give your skin time to get accustomed to the serum and absorb maximum hydration. 
Femvy Vitamin C Serum
Vitamin C can be used both day and night. If using Vitamin C during the daytime, you must also apply adequate sun protection, such as a SPF 30 or higher. Acids make your skin more sensitive to sun damage.  If using in conjunction with microneedling, please wait at least 48 hours post-treatment, if not 7 days,  prior to use. Active ingredients and acidic products can cause skin irritation. 
Femvy Peptide Complex Serum
Use the Femvy Peptide Complex serum morning and night, as it makes your skin more sensitive to light. This serum can be used under makeup, and you can layer a moisturiser on top to lock in even more hydration.
Package includes:
1 x 30ml Femvy Vitamin C (20%) Face Serum (including complementary ingredients Vitamin C 20%, Vitamin E and Hyaluronic Acid) 
All ingredients included: Aqua, Glycerin, Propylene Glycol, Sodium Hyaluronate, Niacinamide, Carbomer, Triethanolamine, Betaglucan, Ascorbic Acid, Ethylhexyglycerin, Caprylyl Glycol, Propanediol, Phenylpropanol, Vitamin E. 

1 x 30ml Femvy Hyaluronic Acid (5%) Face Serum (including complementary ingredients Vitamin C, Vitamin E, Green Tea and Jojoba Oil).
All ingredients included: Hylauronic Acid(Vegan), Purified, water, Jojoba Oil, Capryly Glycol and Glycerin
Paraben, alcohol and fragrance-free.
1 x 30ml Femvy Peptide Complex Serum (including complimentary ingredients botanical hyaluronic acid, vitamin E and aloe vera)
All ingredients included: Organic Herbal Infusion, Organic Aloe Barbadensis Leaf Juice (Aloe Vera), Hamamelis Virginiana (Witch Hazel), Cassia Angustifolia Seed Polysaccharide (Botanical Hyaluronic Acid), Hydroxyethyl Cellulose, Carrageenan Gum, Kosher Vegetable Glycerin, Silk Amino Acid Blend (Sodium L-Pyrrolidone Carboxylate, Sodium Lactate, L-Arginine, L-Aspartic Acid, L-Pyrrolidonecarboxylic Acid, Glycine, L-Alanine, L-Serine, L-Valine, L-Proline, L-Threonine, L-Isoleucine, L-Histidine, L-Phenylalanine), Organic Simmondsia Chinensis (Jojoba Oil), Tocopheryl Acetate (Vitamin e), Sodium Benzoate, Potassium Sorbate, Ethyl Hexyl Glycerin.
Patch Test:  To determine whether these serums are suitable for your skin, first, patch-test the product on an unobtrusive area of skin, such as under your chin or behind your ears, and leave for 24 hours.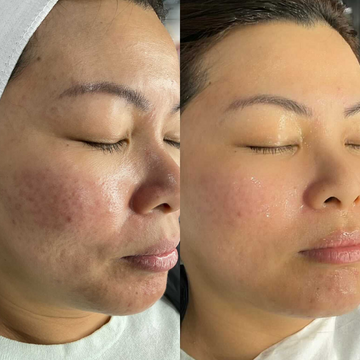 test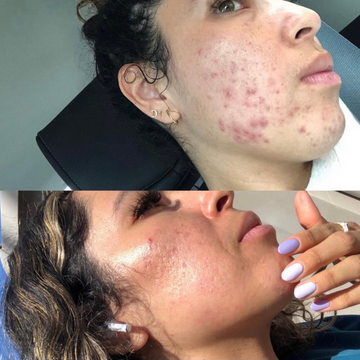 acne fight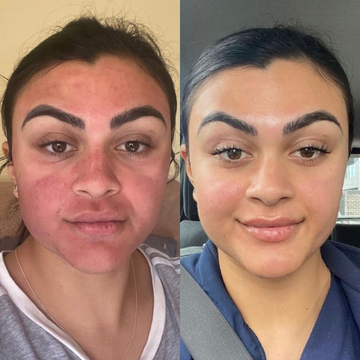 remove redness
shine your skin
glow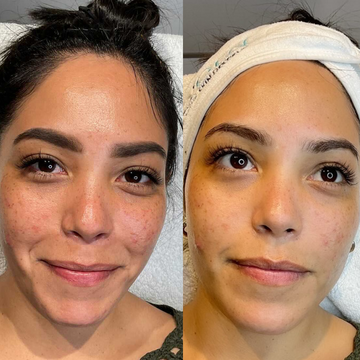 clear face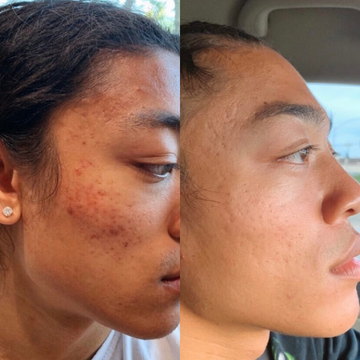 skin care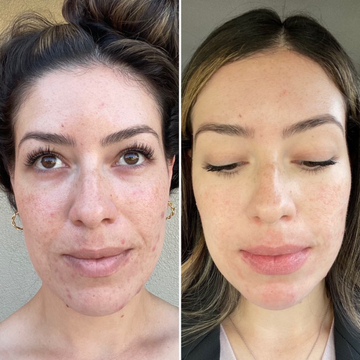 make more shine
ultimate results
skin treatment
Supported by real people
From our in-house Beauty Advisor to the warehouse staff that package your order with love and care, we are invested in your results. We are here to help you and be a part of your skin journey.